Password Assistant: Readable Random Passwords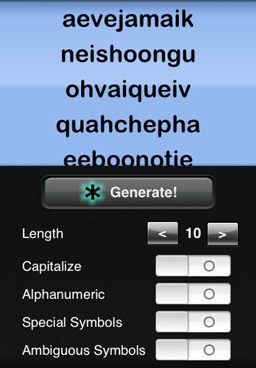 Smart random password generator.
Do you often need strong and secure random passwords, but have trouble remembering them?
The Password Assistant can generate strong and secure, but readable passwords. If you can pronounce it in your mind than it will be easier to remember!
A selection of 50 passwords is generated with just one tap of your finger. If you don't like the first 50 words you can get as many more as you would like.
Features:
Readable random passwords
The options of adding capitals, numbers and special symbols
Easy to use and unlimited possibilities for strong and secure passwords
Passwords can be sent by e-mail
Option to avoid an ambiguous symbols